ATTENTION TRAVELERS: Please notify us of any International or Domestic travel plans you may have.Currently all International debit card transactions are blocked due to an increase in counterfeit card fraud. For your protection, First Trust debit cards are also blocked in various high-risk domestic locations. If you have any travel plans please notify First Trust at 1-800-276-6161 so we may assist you.
| Location | Address | City | State |
| --- | --- | --- | --- |
| First Trust Credit Union | 950 E. U.S. Hwy 20 | Michigan City | IN |
| First Trust Credit Union | 402 J Street | LaPorte | IN |
| First Trust Credit Union | 1404 E. Lincolnway | Valparaiso | IN |
| First Trust Credit Union | 4259 West State Road 10 | Wheatfield | IN |

You now have access to the CO-OP Network's 25,000 surcharge-free ATM locations including credit unions, convenience stores and gas stations, airports, supermarkets, malls and discount stores, as well as military bases in the U.S., Japan, Italy, and Guam. Of these, 6,500 have the ability to take deposits!
---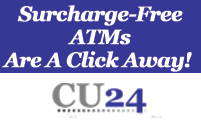 We just added over 100,000 surcharge-free ATMs…at places like Speedway, Family Express, Walgreens, CVS and Horizon Bank.
CU Here (CU24) is the nation's largest network of surcharge-free ATMs. A service fee of $2 may still apply, based on rewards level below.
---

Alliance One ATMs are ATMs that have no surcharge but may still charge a service fee.  Currently the service fee is $2.00 This service fee may be free to you.   Check out the First Rewards Level box below.
First Rewards
Bronze Level members:
Receive ONE FREE PER MONTH
Silver Level members:
Receive TWO FREE PER MONTH
Gold Level members:
Receive THREE FREE PER MONTH
Platinum Level members:
Receive FOUR FREE PER MONTH
E-5 Club:
Receive FIVE FREE PER MONTH
Lost or Stolen Visa Debit Card
1-800-449-7728