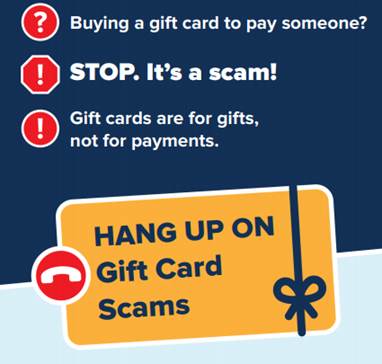 Tis' the season to be jolly… and ALERT! If you receive a phone call requesting payment from an "important" organization or business, you better "think" twice about who is being naughty or nice this holiday season. If someone on the phone is requesting that you pay them with a gift card – HANG UP! It's most likely a SCAM! Some of the more common reasons these scammers demand a payment are to:
Pay an IRS debt
Keep your Social Security benefits
Keep your utilities on (electricity, water or heat)pay for tech support
Pay for a family member in trouble
Pay a member of the military needing money pay bail or ransom
Avoid arrest or deportation
Report these scams to the police, the card issuer such as Amazon, Ebay, Google Play, Etc., and finally to the FEDERAL TRADE COMMISSION at ReportFraud.ftc.gov
For more information on Gift Card Scams, you can visit ftc.gov/giftcards .
Here's to a safe, happy, and scam-free holiday season.
Helpful contact numbers for gift card issuers:
Amazon: (888) 280-4331
Ebay: ebay.com/giftcardscams
Google Play: google.com/support
iTunes: (800) 275-2273
Steam: help.steampowered.com
MoneyPak: moneypak.com/security